PISDA TOUR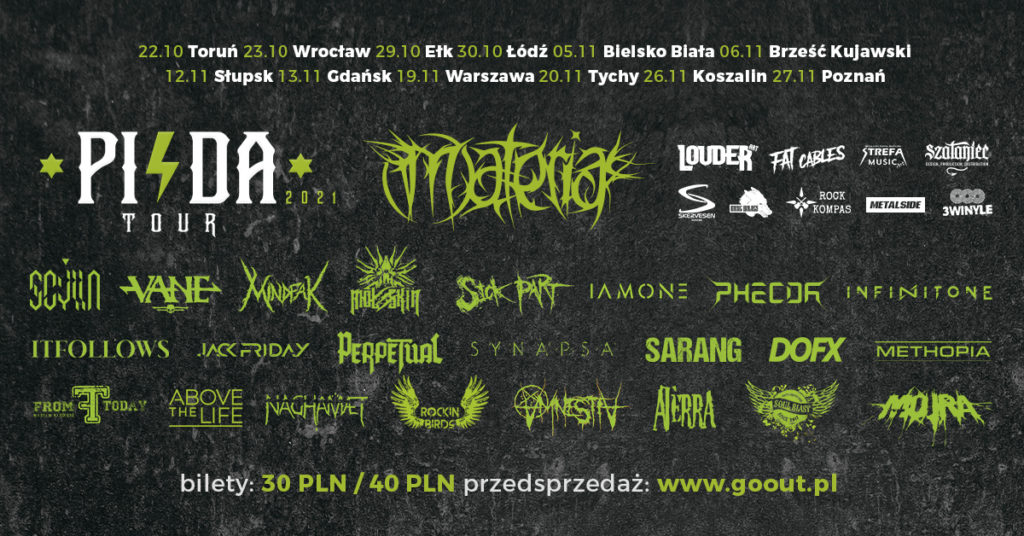 THE MATERIA – PI⚡DA TOUR
Toruń – Wrocław – Ełk – Łódź – Bielsko Biała – Brześć Kujawski – Słupsk – Gdańsk – Warszawa – Tychy – Koszalin – Poznań – Chorzów – Kraków
Louder Art zaprasza na trasę zespołu "The Materia", koncerty obejmą 14 miast. "The Materia" zagra z około 20 zespołami reprezentującymi szeroko pojęty gatunek metalowy.
Czy wiesz, że Twoje myśli to materia? The Materia!
Najbardziej energetyczny zespół w Polsce pokaże wam jak wygląda tworzenie rzeczywistości w ich przypadku. A stanie się to za sprawą trasy koncertowej o intrygującym tytule "PISDA TOUR 2021", której początek już 22 października w Toruniu.
Przedstawicie muzycznej mieszanki djentu z numetalem i progresywnymi naleciałościami ze Szczecinka odwiedzą aż 14 miast w Polsce. Robią to po to, by móc na nowo przeżywać na żywo emocje związane z koncertami w klubach. Jak sami mówią: – Pandemia dała nam wszystkim porządnie w tylną część ciała. Wszyscy mamy tego dość i za sobą tęsknimy. Dlatego zapraszamy was na koncerty, żadnych live streamów, tylko prawdziwe emocje – nareszcie! –
Zespół The Materia oprócz wysokiej jakości występów na żywo charakteryzuje ogromne poczucie humoru i dystans do siebie i tego co ich otacza, co doskonale pokazuje nazwa, którą pozostawiają do waszej interpretacji.
The Materia powstała w 2008 roku z inicjatywy dwóch braci Michała i Tadeusza Piesiak oraz Jakuba Marciniaka. Na początku 2009 roku wydali demo Vandals, którym od razu zyskali dużą popularność. W 2010 roku do zespołu dołączył drugi gitarzysta Adrian Dubiński. Materia zaczęła intensywnie koncertować w całej Polsce, wygrywać przeglądy dla młodych kapel.
W 2011 zespół wydał EP Holidays on the Angels Island i w tym samym roku jako Laureat Ogólnopolskich Eliminacji dali koncert na Dużej Scenie Przystanku Woodstock. Na początku 2013 sami wydali i wyprodukowali debiut Case of Noise (2013), a także drugą płytę We Are Materia (2015).
W 2013 spróbowali swoich sił w polsatowskim Must Be The Music. Trzecia płyta The Rising ukazała się w 2019. W 2015 zagrali na niektórych spośród najbardziej znaczących festiwali metalowych na świecie – na Wacken Open Air, MetalBlaście w Kairze, Euroblaście w Kolonii. Trzykrotnie odwiedzili polski Woodstock, a w 2021 zagrali na Brutal
Przedsprzedaż – 30 zł
Bramka – 40 zł
Start: 19:00
---
Toruń – 22.10.2021
Koncert odbędzie się w klubie NRD – Browarna 6, 87-100 Toruń
Jack Friday (groove metal)
https://www.facebook.com/jackfridayPL
https://sptfy.com/jack_friday
Scylla (electro metal)
https://www.facebook.com/scyllaband
https://sptfy.com/Scylla
The Materia (nu metal, prog metal, djent)
https://www.facebook.com/materia.metal
https://sptfy.com/materia
Bilety: https://tiny.pl/9rpjz (Goout)
---
Wrocław – 23.10.2021
Koncert odbędzie się w Akademia Club – Grunwaldzka 67, 50-357 Wrocław
Scylla (electro metal)
https://www.facebook.com/scyllaband
https://sptfy.com/Scylla
Moleskin (metal alternatywny, metalcore, groove metal)
https://www.facebook.com/moleskinband
https://sptfy.com/moleskin
The Materia (nu metal, prog metal, djent)
https://www.facebook.com/materia.metal
https://sptfy.com/materia
Bilety: https://tiny.pl/9r4hp (Goout)
---
Ełk – 29.10.2021
Koncert odbędzie się w Warchlak Art Pub – Pułaskiego 16, 19-300 Ełk
AmnestiA (death metal, trash metal)
https://www.facebook.com/amnestiaofficial/
https://sptfy.com/amnestia
MOYRA (melodic death meta)
https://www.facebook.com/MOYRAPL
https://sptfy.com/moyra
The Materia (nu metal, prog metal, djent)
https://www.facebook.com/materia.metal
https://sptfy.com/materia
Bilety: https://tiny.pl/9r4x8 (Goout)
---
Łódź – 30.10.2021
Koncert odbędzie się w klubie Wooltura – Wólczańska 40/42, 90-608 Łódź
🔴 From Today (hardcore/metal)
https://www.facebook.com/fromtodayhc
https://sptfy.com/fromtodayhc
🔴 Synapsa (deathcore, metalcore)
https://www.facebook.com/synapsaband
https://sptfy.com/SYNAPSA
🔴 Iamone (djent, progressive metalcore)
https://www.facebook.com/iamoneofficial/
https://sptfy.com/iamone
The Materia (nu metal, prog metal, djent)
https://www.facebook.com/materia.metal
https://sptfy.com/materia
Bilety: https://tiny.pl/9r4x3 (Goout)
---
Bielsko Biała – 05.11.2021
Koncert odbędzie się w Rudeboy Club – 1-GO MAJA 20, 43-300 Bielsko-Biała
🔴 Aterra (groove metal)
https://www.facebook.com/aterrapl
https://sptfy.com/aterra

🔴 Sarang (nu metal)
https://www.facebook.com/soundsofsarang/
https://sptfy.com/sarang

🔴 Moleskin (metal alternatywny, metalcore, groove metal)
https://www.facebook.com/moleskinband
https://sptfy.com/moleskin
The Materia (nu metal, prog metal, djent)
https://www.facebook.com/materia.metal
https://sptfy.com/materia
Bilety: https://tiny.pl/9r4m1 (Goout)
---
Brześć Kujawski – 06.11.2021
Koncert odbędzie się w Brzeskim Centrum Kultury i Historii "Wahadło" – Kolejowa 44, 87-880 Brześć Kujawski
BRZEŚĆFEST" – Przegląd zespołów rockowych
https://www.facebook.com/BrzescFest
  The Materia (nu metal, prog metal, djent)
https://www.facebook.com/materia.metal
https://sptfy.com/materia
---
Słupsk – 12.11.2021
Koncert odbędzie się w Motor Rock Pub – Anny Łajming 3, 76-200 Słupsk
🔴 Mindfak (groove, thrash metal)
https://www.facebook.com/mindfak
https://sptfy.com/mindfak
🔴 Above The Life (progressive metalcore)
https://www.facebook.com/AboveTheLife
https://sptfy.com/abovethelife
🔴 Rockin'birds (rock)
https://www.facebook.com/rockinbirds/
https://sptfy.com/rockinbirds
The Materia (nu metal, prog metal, djent)
https://www.facebook.com/materia.metal
https://sptfy.com/materia
Bilety: https://tiny.pl/9r4t8 (Goout)
---
Gdańsk – 13.11.2021
Koncert odbędzie się w klubie Wydział Remontowy – Plac Solidarności, Doki 1, 80-980 Gdańsk
🔴 Mindfak (groove, thrash metal)
https://www.facebook.com/mindfak
https://sptfy.com/mindfak
🔴 Perpetual (groove metal, thrash metal)
https://www.facebook.com/PERPETUALPL/
https://sptfy.com/perpetual
🔴 Above The Life (progressive metalcore)
https://www.facebook.com/AboveTheLife
https://sptfy.com/abovethelife
The Materia (nu metal, prog metal, djent)
https://www.facebook.com/materia.metal
https://sptfy.com/materia
Bilety: https://tiny.pl/9r47g (Goout)
---
Warszawa – 19.11.2021
Koncert odbędzie się w VooDoo Club – Aleja Prymasa Tysiąclecia 48A, 01-242 Warszawa
🔴 Sick Part (nu-metal)
https://www.facebook.com/SickPart/
https://sptfy.com/sickpart
🔴 Phecda (djent)
https://www.facebook.com/phecda.djent/
https://sptfy.com/phecda
🔴 Aterra (groove metal)
https://www.facebook.com/aterrapl
https://sptfy.com/aterra
The Materia (nu metal, prog metal, djent)
https://www.facebook.com/materia.metal
https://sptfy.com/materia
Bilety: https://tiny.pl/9r471 (Goout)
---
Tychy – 20.11.2021
Koncert odbędzie się w Underground Pub – pl. Korfantego 1, 43-100 Tychy
🔴 Jack Friday (groove metal)
https://www.facebook.com/jackfridayPL
https://sptfy.com/jack_friday
🔴 Methopia (alternative metal)
https://www.facebook.com/Methopia/
https://sptfy.com/methopia
🔴 Vane (groove metal, melodic death metal)
https://www.facebook.com/vane.band
https://sptfy.com/Vane
The Materia (nu metal, prog metal, djent)
https://www.facebook.com/materia.metal
https://sptfy.com/materia
Bilety: https://tiny.pl/9r4rh (Goout)
---
Koszalin – 26.11.2021
Koncert odbędzie się w klubie CK105 – Zwycięstwa 105, 75-001 Koszalin
🔴 DOFX (alternative metal)
https://www.facebook.com/dofxhc/
https://sptfy.com/dofx
🔴 Synapsa (deathcore, metalcore)
https://www.facebook.com/synapsaband
https://sptfy.com/SYNAPSA
🔴 Above The Life (progressive metalcore)
https://www.facebook.com/AboveTheLife
https://sptfy.com/abovethelife
The Materia (nu metal, prog metal, djent)
https://www.facebook.com/materia.metal
https://sptfy.com/materia
Bilety: https://tiny.pl/9r4rg (Goout)
---
Poznań – 27.11.2021
Koncert odbędzie się w klubie POD MINOGĄ – Nowowiejskiego 8, 61-731 Poznań
🔴 It Follows (grindcore)
https://www.facebook.com/itfollowspoland/
https://sptfy.com/itfollows
🔴 Infinitone (groove metal, prog metal)
https://www.facebook.com/InfinitoneBand/
https://sptfy.com/infinitone
The Materia (nu metal, prog metal, djent)
https://www.facebook.com/materia.metal
https://sptfy.com/materia
Bilety: https://tiny.pl/9r4rl (Goout)
---
Chorzów – 03.12.2021
Koncert odbędzie się w klubie Leśniczówka Rock'n'Roll Cafe – Aleja Muzyków 1, 41-500 Chorzów
🔴 Soul Blast (crossover thrash, rapcore, groove metal)
https://www.facebook.com/soulblastPL
https://sptfy.com/soulblast
🔴 Sarang (nu metal)
https://www.facebook.com/soundsofsarang/
https://sptfy.com/sarang
🔴 Moleskin (metalcore, groove metal, nu metal)
https://www.facebook.com/moleskinband
https://sptfy.com/moleskin
The Materia (nu metal, prog metal, djent)
https://www.facebook.com/materia.metal
https://sptfy.com/materia
Bilety: https://tiny.pl/9r499 (Goout)
---
Kraków – 04.12.2021
Koncert odbędzie się w klubie Zaścianek – Rostafińskiego 4, 30-072 Kraków
🔴 Methopia (alternative metal)
https://www.facebook.com/Methopia/
https://sptfy.com/methopia
🔴 Naghamaet (progressive deathcore)
https://www.facebook.com/Naghamaet/
https://sptfy.com/naghamaet
🔴 Vane (groove metal, melodic death metal)
https://www.facebook.com/vane.band
https://sptfy.com/Vane
The Materia (nu metal, prog metal, djent)
https://www.facebook.com/materia.metal
https://sptfy.com/materia
Bilety: https://tiny.pl/9r4wm (Goout)